Transportation Spend Management (TSM) Program
DSi designs and implements managed distribution and supply chain logistics services that insure the timely and cost efficient movement of goods and materials to enhance our clients ability to compete locally, nationally and globally in today's competitive environment.
DSi's TSM Program is a Managed Services Offering that Provides:
Guaranteed Savings Program
Dedicated Service Rep
Transaction Batch Processing
Load Optimization & Consolidation
Freight Bill Audit & Payment

Route Guide Implementation
EDI Invoice Processing
Lost Savings/Vendor Charge Back
Documented Savings Reports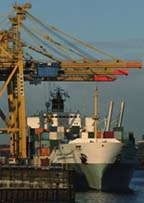 Our transportation spend management programs typically deliver documented freight shipping costs savings of 17% to 25% for most clients and reduced inventory, lead times and cash to cash cycle conversion rates.
An unrelenting expansion and globalization of supply lines and markets propel an essential shift from transaction based relationships to long term contractual relationships. This shift provides ample benefits to our clients. It permits lower freight shipping transaction costs, higher productivity and allows for more responsiveness and flexibility while producing higher levels of predictability. DSi achieves these benefits with a clear and concise vision of freight shipping management services. This vision incorporates the utilization of logistics services technology, the promotion of strategic associations of carriers, vendors and customers and a strict transaction process control.
The results DSi's best-in-class management services deliver for our clients include:
Increased customer satisfaction
Reduced direct and indirect freight shipping costs
More accurate forecasting and budgeting
Greater control and visibility of transportation, warehousing and total logistics services cost
The movement of logistics services from the shipping and receiving rooms to the board room is well underway and long overdue. The quickest route to an effective and responsive logistics services function which enhances the ability to compete in today's global logistics environment is available. We believe that route is DSi. Allow us to demonstrate the tangible benefits of a partnership with DSi.
Call us today-508-747-6200.